Services
USiBTS offers comprehensive international tax preparation and consulting services to clients around the globe. Located in Carlsbad, California, we pride ourselves on upholding the highest ethical standards in our practice. Our team stays current with the latest tax laws and regulations to ensure our clients receive accurate and up-to-date advice. We have helped countless clients navigate the complexities of international tax planning and compliance. Whether you are an individual or a corporation, we are committed to providing personalized service and expert guidance. Our goal is to help you optimize your tax position while minimizing your risk exposure. Trust us to handle your international tax needs efficiently, professionally, and with integrity.
READ more
International Tax Preparation
We prepare tax returns for International and US clients, including businesses and individuals.
U.S. Tax Preparation
We offer comprehensive tax services, including tax return preparation, e-file, and representation before the IRS.
Start-ups Tax Consulting
Our expertise in tax planning allows us to assist you in selecting the most advantageous state and business entity type, maximizing your tax benefits.
Tax Consulting
We provide professional tax consulting services to help individuals and businesses navigate complex tax laws and optimize their financial benefits.
Accounting & Bookkeeping
We provide customized accounting and bookkeeping services designed to meet the unique needs of your business.
EIN & ITIN Services
We specialize in assisting local and international clients with their EIN and ITIN applications, including original document certification services.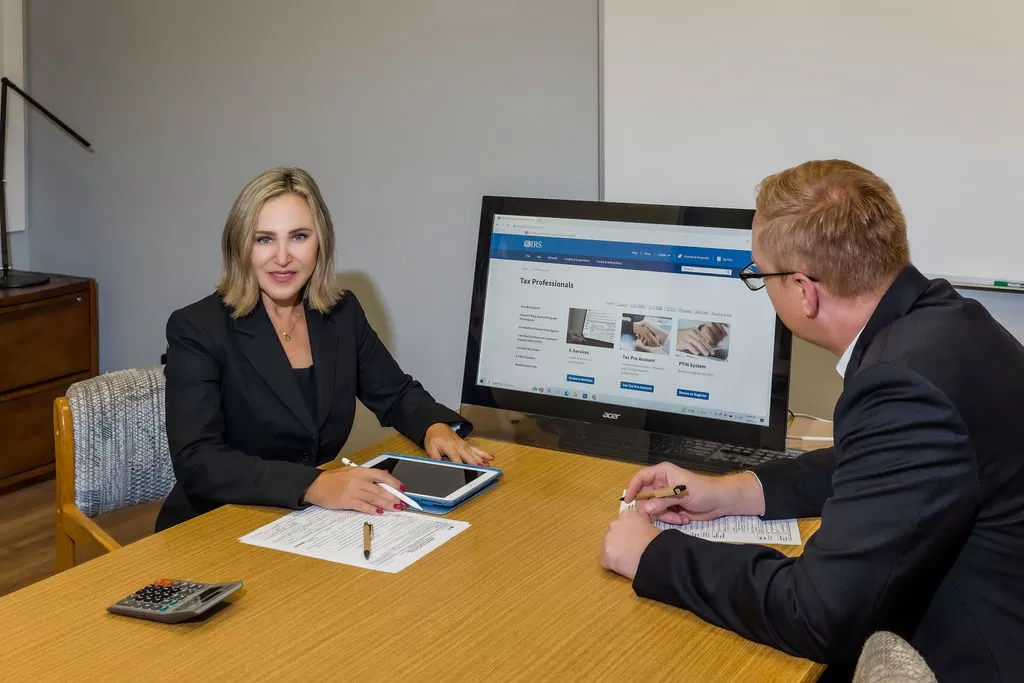 Why choose us
Looking for tax preparation in Carlsbad, California? Choosing our tax and accounting services is a wise decision for many reasons. Our team of enrolled agents, certified by the IRS, possess the knowledge and expertise to handle all your tax and accounting needs. We offer a one-stop for bookkeeping, tax planning, consulting, tax preparation, ITIN, and EIN. Our ability to represent clients in all states adds an extra layer of convenience and peace of mind. We strive to provide exceptional customer service and personalized attention to every client. With our reliable and efficient services, you can rest assured that your tax and accounting needs will be handled with the utmost professionalism and care.
contact us
Dennis Ovchinnikov
Company`s Co-founder Enrolled Agent
Certified with the IRS. Expert in international business taxation with over 20 years of experience.
Natalia Moskaleva
Company`s Co-founder Enrolled Agent
Certified with the IRS. With a background spanning more than two decades in tax, finance, and real estate investments.
Testimonials
We always welcome our clients` feedback.
USiBTS handle all my personal and firm issues. After delivering me from a nightmare of complicated tax problems, everything so far has been easy. They are fast, direct, customer-oriented, and the easiest-going company I've ever partnered with. Kudos!
International tax client
founder
USiBTS is the best. Not only did they help me make sound decisions, but they also followed up with me to ensure I didn't make any other mistakes! I highly recommend them for any tax needs and financial advice. They are too good!
We were experiencing problems with our overall tax system and was on a thin line, but fortunately, we found USiBTS, which not only swooped in to save the day but resolved it quite quickly.
I don't know how to thank USiBTS enough. My business would have been history if they hadn't shown up for me. In only 24 hours, they analyzed my past tax history and put together a detailed plan, even if it was short-noticed. It was unlike anything I've ever seen.